The landing page is designed to match your branding and ad campaigns. The purpose of this page is to be used for paid ad campaigns to optimize traffic and conversions.
Why use a landing page? Why can't I direct paid traffic directly to my funnel?
When running paid ad campaigns, we recommend using a landing page to direct your traffic to rather than pushing traffic directly to your estimate.solarcompany.com URL. We say this because it provides a better user experience for the homeowner and offers them more value before fully converting.
Most homeowners aren't fully knowledgeable on solar, how it works and all the details involving it, so that's where the landing page comes in. It should be used as a helpful tool to help educate the homeowner on solar, what to expect while providing them with their instant solar estimate.

Additionally, this page will help drive deep-funnel buyers and alleviate window-shoppers from entering your funnel.

When should I use this landing page?
Landing pages are created for all paid traffic. For example, if you're running ads on Google, Facebook, TikTok, Instagram, etc., you should use a landing page. Using a landing page with our entry widget is a better way to get users to convert to leads due to the educational and value aspect created on the page.

How do I update my landing page?
Ask your account manager for the comment link to your page and make your comments/revisions directly on the page where you'd like them. If you have any specific copy or images you want added on your page, please provide those directly to your Account Manager to insert on your page.

When should I ask to have my landing page updated?
If you plan to run a new campaign with different messaging, please don't hesitate to reach out to your Account Manager for recommendations as well as revisions to your landing page to match your ad's messaging. Oftentimes, this is done through a few quick updates to your page!

By matching your ad campaigns to your landing page, this helps create a cohesive message across the entire campaign and helps your campaign perform to its fullest extent.

Can I create my own landing page and link to my funnel?
Yes! We only provide one complimentary landing page per client, so if you have multiple campaigns with different messaging, we recommend utilizing multiple landing pages (see below for more information).

You can add your embed widget from the portal to have an easy entrance into the funnel. You can find your embed widgets in the portal by going to Configurator > Embed Widget. Typically, we find that the zip code entry widget converts better as it is an easier entry point for the homeowner.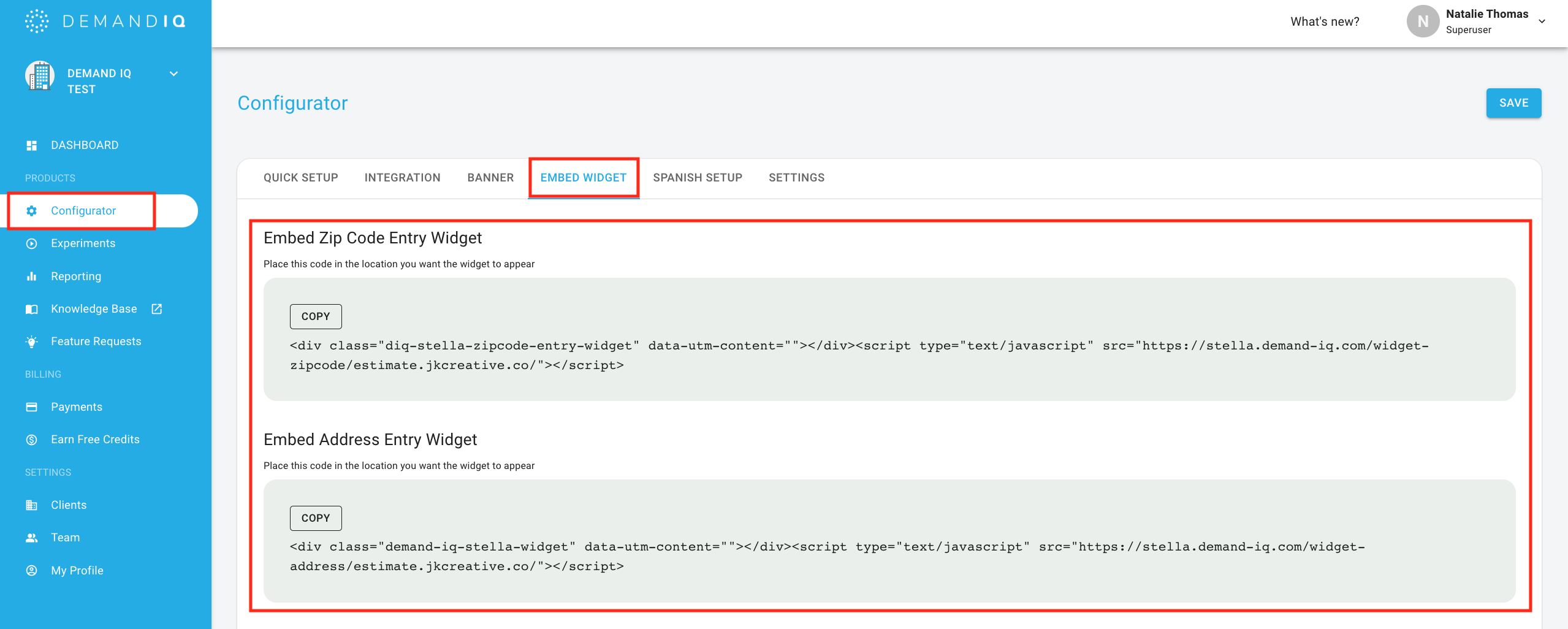 Should I be using multiple landing pages?
If you're running multiple campaigns with different messaging, we recommend having a landing page for each campaign to ensure messaging matches across the board. If you need additional information or recommendations here, please don't hesitate to reach our to your Account Manager.