How to download the app, log in and out, and troubleshoot login issues
Downloading and Installing the App
Visit the App Store (for iOS) or Google Play Store (for Android) and search "Hero from Demand IQ" to download and install the Hero app.
Ensure you have a stable internet connection during the installation process.
Creating an Account
Account managers should add all new users to Hero via the Demand IQ Portal.
Open the app and follow the on-screen prompts to create a new Hero account.
Provide the necessary information, such as your name, email address, and password.
Confirm your account through the verification email sent to your registered email address.
Logging In and Logging Out
Launch the Hero app and enter your registered email address and password to log in.
To log out, navigate to the account settings menu and select the "Log Out" option.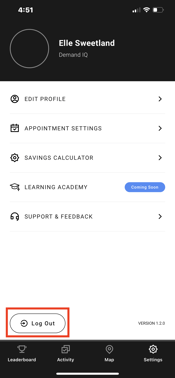 I can't log in, what do I do?
If you can't remember your password, hit Forgot your Password on the login page to reset your password then login.
If you are still having issues, reach out to us at (720) 740 - 4407