How to generate a Solar Preview
Map
Overview
The Solar Preview™ feature enables sales reps to generate customized shade reports and qualification insights at the homeowner's door.
It visually represents how solar panels would look on the homeowner's property and generates a ballpark savings estimate based on their current utility bill.
Within the Solar Preview, you can generate a Solar Preview, set a disposition, make notes, schedule an appointment, and capture a photo of utility bills.
How to Use the Solar Previews
To generate a Solar Preview:

Tap the "Map" button at the bottom center of the app.
Search for an address or simply drop a pin on any roof in the app.
Tap "Preview" to generate the Solar Preview and present it to the homeowner for a personalized, interactive, and engaging solar report experience.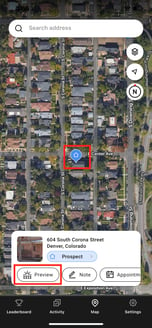 To set the homeowner's Disposition: Every lead's disposition defaults to Prospect. To change the disposition, tap Prospect and select the relevant disposition.

Disposition options include Prospect, Appointment, Not Home, Follow Up, Not Interested, Not Qualified, and Do Not Knock.

To schedule an appointment: Tap "Appointment."

Hero uses the calendar link from your Profile to connect to your calendar.

To make a note: Tap "Note" to document any additional info/insights for the lead.
To include a Utility Bill: Tap "Utility Bill", which is to the right of "Appointment" and either take photo or attach a file to the lead.

Tips and Tricks
Familiarize yourself with the Solar Preview™ generation process to efficiently create personalized presentations to share at the door.