Learn how to adjust the Demand IQ banner to match your website's style. This allows organic traffic from your website to enter the Demand IQ funnel.
Edit banner colors
Click directly into the color areas to input specific HEX, RGBA, or other colors. We recommend selecting colors that work with your existing branding but stands out on the page. Ensure that the "Enable Banner" button is toggled On to see changes in the banner.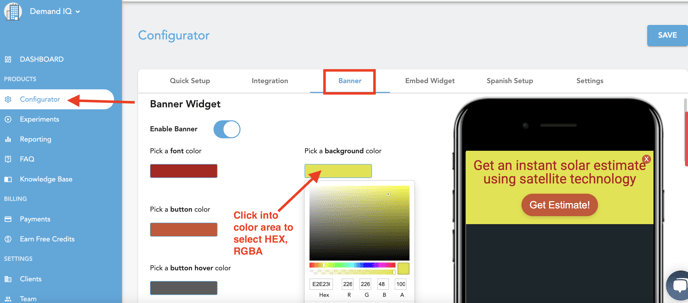 Edit banner positioning
Select positioning of the banner that works well with your site. We recommend using Dynamic positioning if possible to catch viewer attention.

Edit banner text
You can edit the text in both the headline and button. We recommend using strong Call to Action messaging that focuses on getting an instant solar estimate.

Choose button shape
Select square, semiround, or round buttons to match your current website.

Add banner to site
Copy the widget script to add the banner to your site. Learn more about integrating the banner on your website here. Add URL parameters for tracking purposes.