Learn how to track conversion data by website page or page location using UTM parameters.
What You'll Need
Access to update your website and/or landing pages
Access to your Demand IQ platform
Do you have multiple locations or ways for users to enter the Demand IQ funnel? To understand where on your website your conversions are coming from, you can set the UTM Content parameter directly on your banner or embed widget.
For more information on UTM parameters, please visit this Knowledge Base article.

Say you have the Demand IQ Banner and the Address Entrance Embed Widget on the homepage of your website. You'll want to know which feature a user engaged with to enter the Demand IQ funnel.
---

To do this, you can set the UTM Content parameter directly in the script on your website.
Part of the Banner and Embed Widget contains the following parameter: data-utm-content="".
Add an identifying string of URL-friendly text (no spaces or special characters) between the quotes.
Ex: <script type="text/javascript" src="https://stella.demand-iq.com/banner-widget/estimate.testdomain.com/" data-utm-content="home_banner"></script>
Any user who clicks on the banner generated by this snippet will be tagged with home_banner in the UTM Content field in the Demand IQ portal. You can also pass this information along to your CRM via our Zapier integration.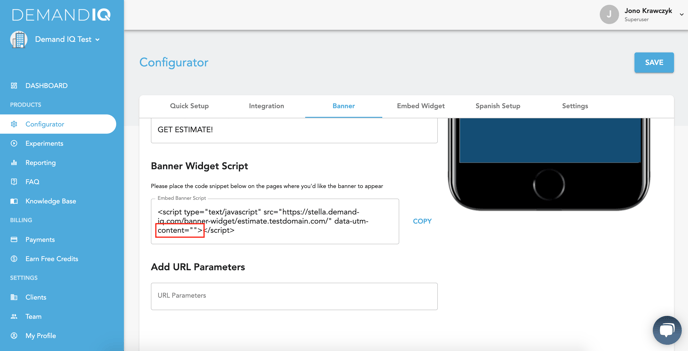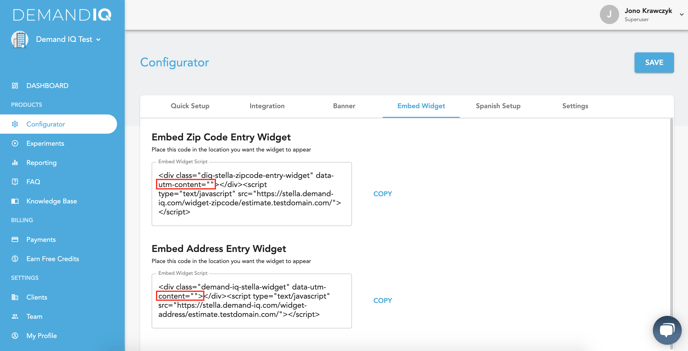 You will need to change the UTM Content parameter within the script directly on each page for each instance of the Banner or Embed Widget you'd like to track.